Common name:
bifenthrin Other name: Biphenthrin, Bridge, Capture, Talstar
Chemical name:
[2-menthylbiphenyl]-3-ylmethyl(Z)-(1RS,3RS)-3-(2-chloro-3,3,3-trifluoro-propenyl)-2,2- dimethylcyclopanecarboxylate
CAS No. :
82657-04-3
Molecular formula:
C
23
H
22
CIF
3
O
2
Molecular weight:
422.86
CAS number:
82657-04-3
Chemical Structure: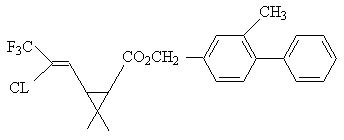 Physical and chemical property:
Description White solid Purity 96%
Density:
1.21/25℃ Vapor pressure 2.4×10-5pa/25℃
Melting point:
68~70.6℃ Solubility
Soluble in most organic solvents, insoluble in water (in water 0.1mg/L at 25℃), Stability Stable in acid
Acute toxicity Oral LD50 Rat:
316mg/kg, Dermal LD50 rabbits>2000mg/kg Chronic toxicity NOEL: 2.5 mg/kg/day(rat);1.5 mg/kg/day(dog)
Application:
Used as insecticide and termitide for the control of insects by contact and stomach poison activity,with a rapid knock down.It acts by paralyzing the nervous systems of insects .Bifenthrin is not absorbed by plant foliage.In some states,bifenthrin was registered for use on cotton, apples, pears, bananas, rose, pine seeding orchards, trees, shrubs,and plants.Period of validity of validity of against acarid is 28 days.
Package:
Two-layer of nylon bags lined in paper barrel, 25Kg/barrel.